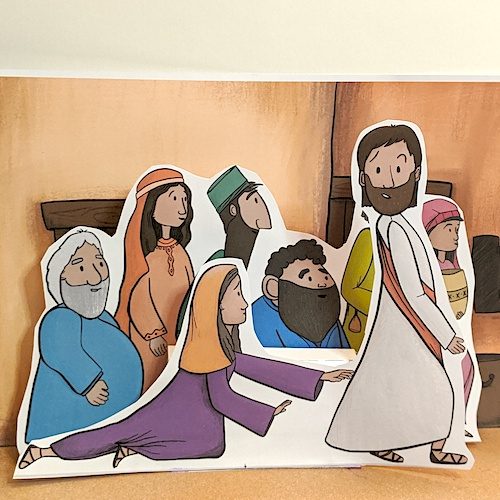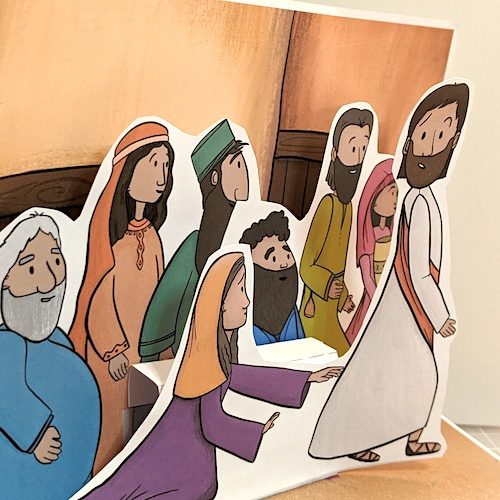 A woman who had suffered with a sickness for 12 years that no doctor could heal, had reached out believing Jesus could heal her and at the moment she touched just the edge of His robe she was healed.
There was nothing magical about the clothing that Jesus wore, but there was something powerful about the woman's heart when she reached out and touched just the tip of His robe. She reached out believing that Jesus could heal her. It was her faith in Him – not the robe – that allowed His power to heal her.
This is a great lesson to teach faith to children, that it's not about having a thing that can bring God's blessing, but rather our hearts and our trust in Him.
Printer
Paper
Colouring Tools
Scissors
Something to score fold lines 
Glue
Colouring In
Cutting
Glueing 
Folding
Click the button below to download. If a download window does not open, please check your download folder for the file.
Choose the outlined version of this craft and color it in, or print the colour version of this craft.
Start by scoring all the fold lines. (Don't miss this step.).
Fold the background inwards, then back on itself, then fold it inwards again. This will mean the background page can now lie flat after folding it three times in the same place.
Cut out the pop-up support pieces and the people.
Fold the pop-up support pieces ready to glue them to the background. Glue A1 to A1.
Next fold the pop-up support piece so it is lying flat and A2 will meet A2 when the background card is folded in half.
Test that A2 panels lines up with each other before you apply the glue.
Glue the crowd to the pop-up panel that you have now glued to the background.
Glue the Next pop-up panel using the same method as before. Now you can glue Jesus and the woman who was healed to that pop-up panel. 
---
** HIGHLY RECOMMEND THIS PAPER from Amazon** which I use for ALL my crafts because it's a bit thicker than ordinary printer paper and prints brilliantly!!!
** This is an affiliate link, which means if you make a purchase, I'll receive a tiny portion of the sale (this does not increase the price for you!).