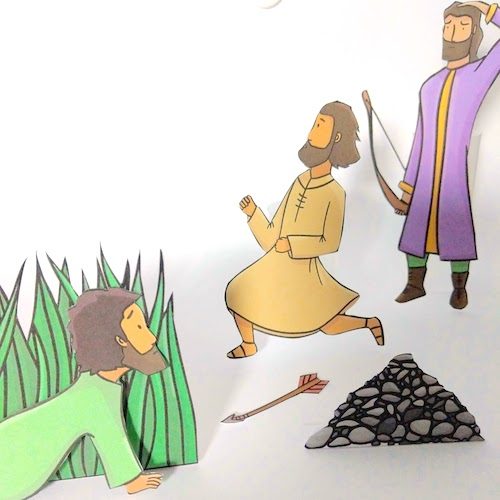 This story is a great opening for talking about friendship and what a true friend is. David faced one of his most challenging chapters in his life – a king wanted him dead, he had to flee during the night leaving his wife, had gone in to battle facing death each time, and through all this, he was hiding and homeless, yet his friendship with Jonathan gave Him encouragement and strength. 
Talk to you children about being an encouraging friend. If they see someone who needs help, talk them about showing kindness, and not judging or being mean. 
Printer
Paper
Colouring Tools
Scissors
Click the button below to download. If a download window does not open, please check your download folder for the file.
Color and cut out.
Fold tabs under rocks and grass so they stand.
You can use playdough or something else to stand the characters up. I made a thin tube I taped the standing men to.
---
** HIGHLY RECOMMEND THIS PAPER from Amazon** which I use for ALL my crafts because it's a bit thicker than ordinary printer paper and prints brilliantly!!!
** This is an affiliate link, which means if you make a purchase, I'll receive a tiny portion of the sale (this does not increase the price for you!).