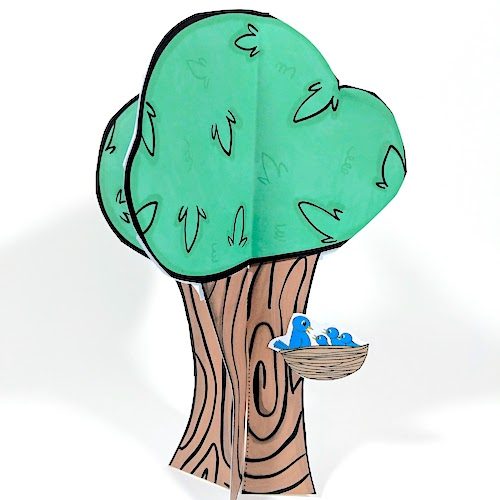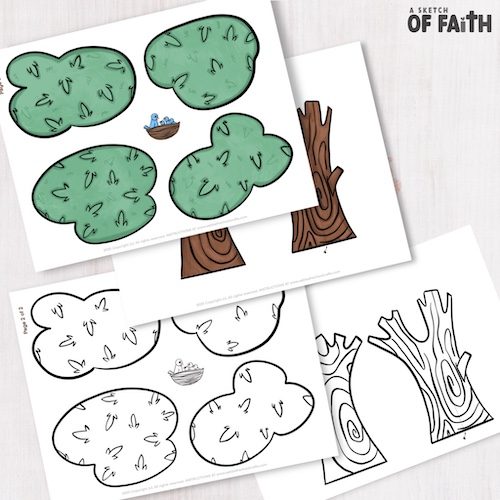 This is like our faith. Jesus didn't tell this parable and expect people to have faith like trees instantly, He told this because just like a tree starts as a seed, so does our faith. 
We at times, may also question if our faith is there and growing. But so long as the seed is there, and we're giving our faith opportunity to grow, let's have faith that it is, even if it's not quite a mighty tree just yet.
Printer
Paper
Colouring Tools
Scissors
Glue
Colouring In
Cutting
Glueing
Click the button below to download. If a download window does not open, please check your download folder for the file.
NOTE: This tree is not likely to stand up with regular paper. I used 32lb paper, and that only just stood up.  You can glue in your own supports to make the tree more rigid if desired.
Colour in.
Cut out all pieces.
Cut on the dotted lines on trunk then insert them over each other.
Fold the leaves in half and glue between the sections on the tree.
Glue on the birds to the branch sticking out.
---
** HIGHLY RECOMMEND THIS PAPER from Amazon** which I use for ALL my crafts because it's a bit thicker than ordinary printer paper and prints brilliantly!!!
** This is an affiliate link, which means if you make a purchase, I'll receive a tiny portion of the sale (this does not increase the price for you!).