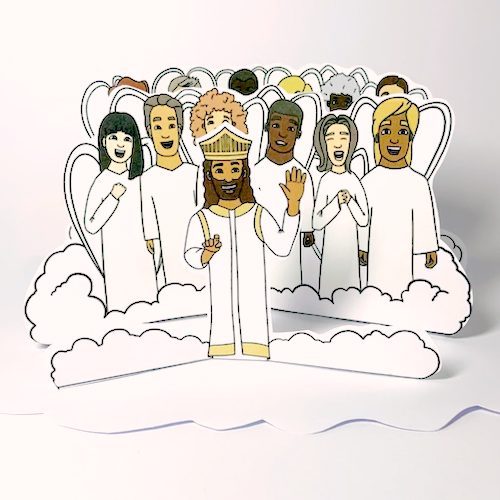 Heaven can seem so obscure and almost mythical-like, so let's make it real! Use phrases in your class and home like, 
"I can't wait for to see Jesus coming back for us!"
"When we get to Heaven, what do you want to do?"
And, when bad things happen, say, "I can't wait for heaven, because this would never happen there." Let's talk about the second coming with joy and not fear. Let's talk about the happiness on the face of Jesus and the angels. One day, it will come, and it will be the greatest moment ever. I hope to see you there! 
Printer
Paper
Colouring Tools
Scissors
Glue
Thicker cardstock for base
Optional: Cotton balls and Glitter
Click the button below to download. If a download window does not open, please check your download folder for the file.
Color and cut out all pieces.
Fold and glue flaps onto an extra piece of paper.
Option: Use cotton balls for the clouds, and some glitter for some sparkly wings and crown.
---
** HIGHLY RECOMMEND THIS PAPER from Amazon** which I use for ALL my crafts because it's a bit thicker than ordinary printer paper and prints brilliantly!!!
** This is an affiliate link, which means if you make a purchase, I'll receive a tiny portion of the sale (this does not increase the price for you!).